Projects
French Highshool Victor Hugo, Marrakech
The highshool uses ocher on its facades, as required by historical town planning regulations, through the use of terracotta brick. The multiple variations in tone, due to the origin of the clay and to the firing, enrich the relative simplicity of the forms and introduce a specific architectural identity, not limited to the application of a regulation while creating a clear dialogue with the existing buildings.
---
The new buildings are all oriented facing North and South and, with the implementation of passive bioclimatic solutions, allow:
- to promote natural cross ventilation with openings in the lower and in the upper part (louvered windows),
- to provide classrooms in summer with a volume of air allowing stratification of hot air, favored by ventilators,
- and, in winter, a sufficient volume of air so that the renewal of hygienic air can only be done during interclasses,
- optimize the supply of daylight through high windows.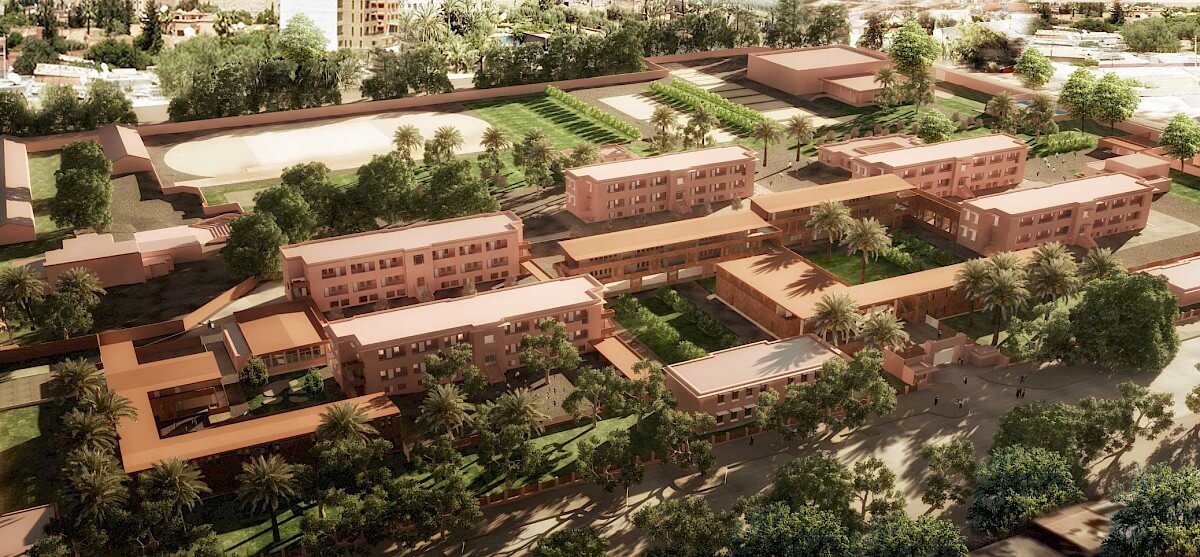 ---
Program
Reconfiguration of primary and secondary school access, construction of a science center, regrouping of the primary school, regrouping of administrative services and reconstruction of the multipurpose room

Client
AEFE Agence pour l'Enseignement Français à l'Etranger

Location
Marrakech, Morocco

Design team
TERRENEUVE architects, representative; Y/N Architecture, associate; RPO, économics; CETIS, structural engineers; LUSEO, MEP engineers, external works and local économical assistance

Surfaces and construction cost
5 500 m² SU / 48 M DHS HT

Timeline
Competition 2015