Projects
Highschool Uruguay-France, Fontainebleau-Avon
---
Built in 1977 adjacent to the Fontainebleau forest, the Uruguay France high school is set in an exceptional natural wooded landscape. The existing architectural layout featured patios interconnected through a network of galleries and covered courtyards.
The new entrance is defined by a succession of transitional spaces: a vast forecourt serves as an entrance for the pupils, with a glass-fronted reception office that facilitates monitoring. A porch provides a symbolic entrance and shelter, with a landscaped pathway leading to the school. The unity of the materials – pre-cast white concrete and Fontainebleau rough-hewn sandstone – radically transforms the school's identity. Lighting highlights the texture of the sandstone, while two landscaped car parks complete the layout.
The new school restaurant – a kitchen and 3 dining rooms with capacity for 1 600 meals – has a more refined atmosphere and acoustics. The demolition of the ground floor concrete facades enabled steel bow windows to be inserted, providing a view over the forest from the dining rooms and fully optimising the natural light.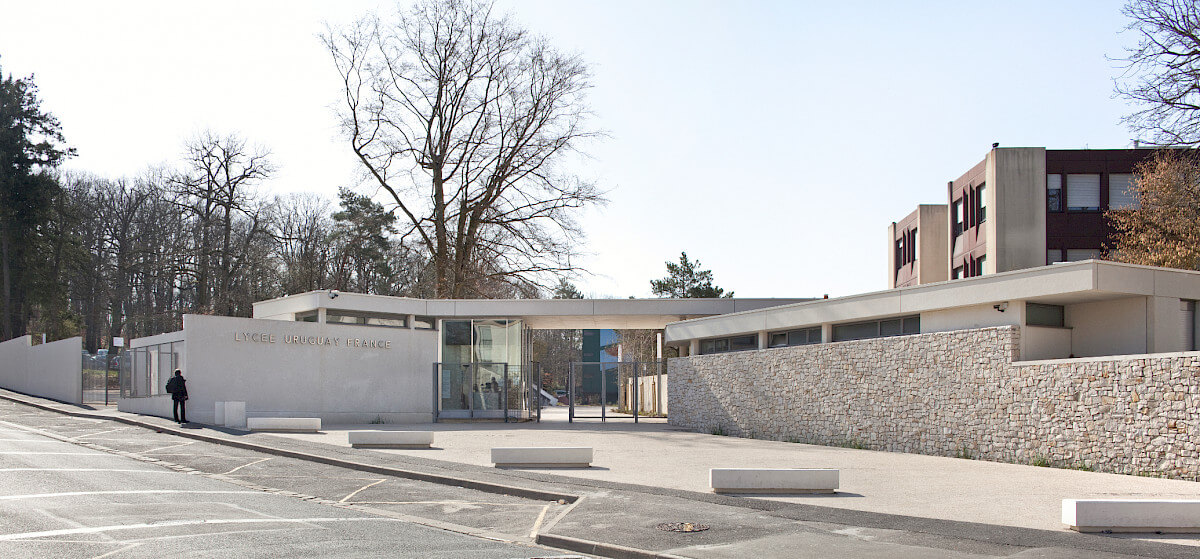 ---
Program
Extension and restructuring of the Uruguay-France high school on an occupied site (2,100 students) Catering, accommodation, lodge, security, outdoor spaces

Client
Région Ile-de-France / Icade Promotion, representative

Location
Fontainebleau-Avon, France

design team
TERRENEUVE architects, representative; Armelle Claude, landscape designer; MDETC, économics; Khephren, structural engineers; Cap Ingelec, MEP engineers; CPS, Electrical engineering; Distec, Catering engineering

Surfaces and construction cost
17 000 m²  existing 1 860 m² new 5 000 m² exteriors / 6,2 M€ HT

Timeline
Delivery 2010

Missions
design and supervision + construction site survey

Photos ©Daniel Rousselot