Projects
French Highshool Charles Lepierre, Lisbon
The creation of a new entrance dedicated to primary, independent of that reserved for secondary, helps clarify flows and adapt spaces specifically to the functioning of each.
Our project, by responding to this programmatic choice, proposes to go further by also clarifying the division between kindergarten and elementary school.
---
The new forecourt not only secures the entrance, but also shares the flow of students of different ages: access to kindergarten in front, and to primary school to the right.
We also propose to take advantage of the difference in level of existing courses to extend them and dedicate them each to a school.
Beyond the separation of accesses from the forecourt, and the functional autonomy of each school, we also want to create optimal conditions for networking, by locating the common premises shared at the interface of the two entities and offering visual openings.
The new construction forms a unitary and continuous "bridge building", bringing together the extension of the
kindergarten and the new elementary school, while releasing on the ground floor a large free covered space.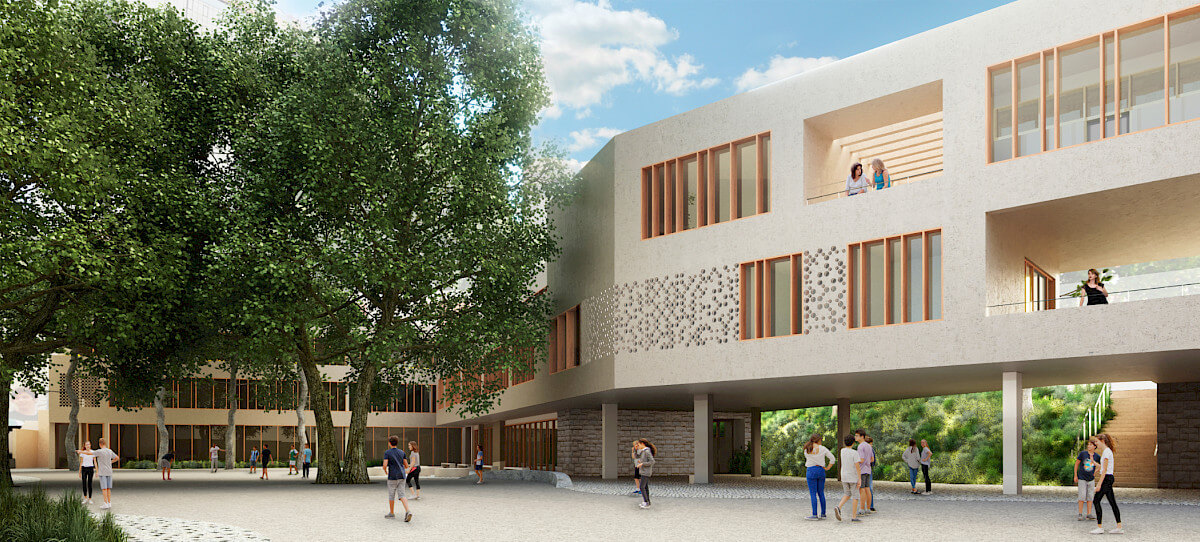 ---
Program
Phased new construction phased on occupied site of the current high school + restructuring

Maîtrise d'œuvre
TERRENEUVE architects, representative; COSTA-LOPES, associate architects; TERRITOIRES, landscape designers; AXIO, économics; STA, structural engineers;
ENERGIA TECNICA, MEP engineers; Nobatek, Environment engineering

Surface
3800 m² SU

Construction cost
5,1 M€ HT

Timeline
Competition 2017

Perspectives 
3dHelps